Our Team
Our Instructors
All our instructors have been personally selected by us to provide you with the highest quality instruction, whether you are taking your CBT with a view to commuting, doing a Direct Access course to get a full bike licence, or looking to improve your riding in preparation for a round-the-world trip.
All of our instructors are committed to continually improving their own skills, both as riders and as instructors. As an MCIAC accredited training school, all our customers are surveyed at the end of their training to ensure we deliver the highest standards and we are inspected annually by the MCIA in order to retail our accreditation.
Our Chief Instructor, Paul Beattie, personally selects all our instructors and regularly monitors their performance (and they also regularly monitor him!).
Paul Beattie, RoSPA (Dip), Chief Instructor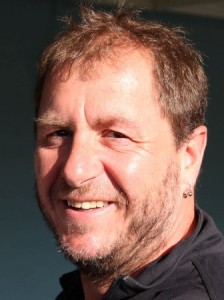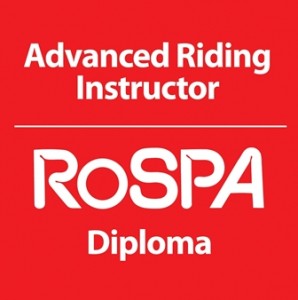 Paul has been riding for over 20 years, despite learning to ride at the ripe old age of 29. As well as being DVSA-approved to teach Compulsory Basic Training (CBT) and Direct Access (DAS), Paul is also on the DVSA's Register of Post-test Motorcycle Trainers (RPMT) and is authorised to teach the Enhanced Rider Scheme (ERS – so many acronyms!). A member of both the Institute of Advanced Motorists and RoSPA Advanced Riders and Drivers (motorcycle sections), he also holds BTEC and RoSPA Diplomas in Advanced Riding Instruction and is on the Approved RoSPA Motorcycle Instructors list. In addition to his riding and instructing qualifications, Paul also holds a Level 4 PTLLS teaching award and is a qualified Outdoor First Aider.
As well as being a motorcycle instructor, Paul is also a keen motorcycle traveller and has toured North, South and Central America as well as Europe. He occasionally works as a motorcycle guide for GlobeBusters, the leading motorcycle expedition company.
Anne Hodgkins, CBT & DAS Instructor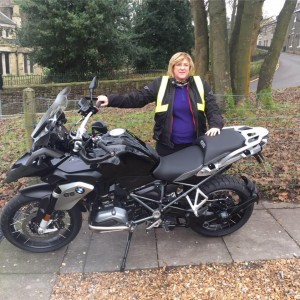 Anne came into motorcycling relatively late in life, but has gained a significant amount of riding experience in the 13 years since she passed her test. As well training for, and passing, her IAM test, she has toured on her motorcycle in UK and Europe, used her bike on track days and even  enjoyed some off-road riding – gaining her some well earned  street-cred with her own children and grandchildren. She took her RoSPA Advanced Riding test in July 2017 and attained a GOLD grade ("the highest civilian riding standard available and the holder will be a master of his or her art"). She hopes to do touring further afield in the next few years and has South America on her bucket list.
Having initially trained as a teacher, Anne decided it was possible to use all her skills to become a motorcycle instructor and now she enjoys guiding trainees through their CBTs and Direct Access Scheme (DAS) training to help them get their full bike licence!
She changes her bike as often as she changes her shoes, but lives by the philosophy that  a girl can never have too many bikes or too many pairs of shoes.
Neil Phillips, Instructor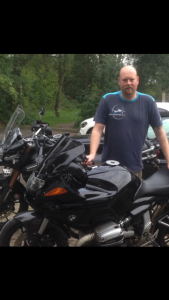 Neil has been riding since he was 17 way back in 1982 and has never been without a bike since. He's had a variety of bikes, some less shonky than others, including (stand by for a list of model designations, see how many you recognize!): Suzuki GT125, Honda Superdream (which was neither super , or a dream), Z750, Gpz750, GPZ900, FZR1000R, MZ250, CB400, KLR650, DR750, CBX750. ZL1000, R1100S VN1500 meanstreak, Explorer 1200, F800r, K1200r. So it's fair to say he's a bit of an enthusiast !
He has done a fair bit of touring in UK and Europe, the most memorable being when he was 19 on a ratty Z750 through Holland, Germany and France to the Med' via the Route Napoleon (though he'd not heard of this famous route at the time).
He's also done a couple of Track schools, a Honda one at Cadwell a million years ago, and The Ron Haslam at Donnington in 2016. He's also dipped his toe into the muddy side and done an off road training school at Moto Scotland that was predictably wet but great fun.
He was fortunate to do, and pass the Police Advanced Motorcycling course (and the car equivalent), which he says was a total blast –  4 weeks of playing out burning free petrol at the taxpayers' expense (he claims this involved learning to ride safely according to the system, making progress where possible, but we know the truth!). In additional to this he also completed a 3 week surveillance bike course, so it's fair to say he can ride quite well! He would also like to point out that during his time in the cops he never gave out a speeding ticket!
He would class himself as a safe and steady rider, and say the main thing he wants to get across to his students is that the most important aspect of riding is to stay safe. And that doing so doesn't mean not having tons of fun, as the two are not mutually exclusive!
Our Support Team
Tracy Beattie, Company Secretary and Chief Administrator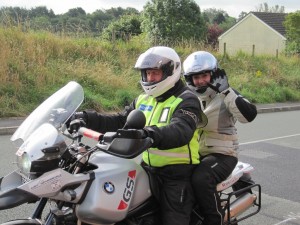 As well as being the brains behind the school and Paul's wife, Tracy is the person responsible for the smooth running of Inner Circle Training. She held a full motorcycle licence for many years before an unfortunate accident left her unable to ride. She still loves motorcycling and is often seen riding pillion on Paul's bike.
Prior to setting up Inner Circle Training, Tracy was a nurse for over 20 years, so is more than qualified to deal with the many emotions our learners go through as they go about obtaining their licences! She will be delighted to be able to help you in any way she can either in the office or at the end of our dedicated phone line.